Sysmex Life Science goes pink!
One in eight women in Europe will develop breast cancer at some stage in her life. Yet closer cooperation between specialists, new diagnostics and therapies have improved survival rates significantly1,2 as well as Patients' quality of life3-5
We are playing a significant role in these improvements for you as a clinician, and your patients.
Everything we offer is designed to help the breast surgeon, pathologist and radiologist that address the surgery and diagnosis of breast cancer disease.
Magseed® placement and surgery
Transformative changes in the field of breast cancer treatment have led to improved patient outcomes and shifts in surgical management. The Magseed® magnetic marker has been specifically designed to overcome the limitations associated with current techniques for lesion and lymph node localisation. This tiny seed has already been used throughout the world to help thousands of women have better outcomes for their breast surgery. It promotes seamless operation room scheduling, accurate localisation and high patient satisfaction.
Watch the Video with Radiologist Dr Marie-Rose El Bejjani and breast surgeon Dr Severine Alran from Hospital Saint-Joseph in Paris and learn more about the placement and surgery with Sentimag®-Magseed®.
Magnetic lymph node localisation
Many treatments for early-stage breast cancer involve sentinel lymph node biopsy (SLNB). This method, which identifies the lymph nodes with the highest potential for harbouring metastases, helps to determine the nodal stage of the cancer and make informed decisions for surgery and subsequent treatment.
Standard SLNB uses radioisotopes for sentinel node localisation. We offer an effective clinical solution that uses safe magnetic fields instead. This eliminates concerns related to issues of safety, workflow and availability associated with ionising radiation. Best practice SLNB is now possible everywhere, with no time restrictions.
Our system consists of the Sentimag® probe and the Magtrace® magnetic tracer. First, the tracer is injected into the interstitial tissue to provide a traceable signal. Next, using the Sentimag® probe, the sentinel lymph nodes are located to determine how far the cancer has spread.
Molecular intraoperative staging with OSNA
Axillary management and the relevance of sentinel lymph node biopsy (SLNB) have undergone major changes in the last years. Clinical trials, which have investigated less invasive treatment approaches as a replacement of axillary surgery, indicate that axillary dissection can be omitted in patients with limited metastatic involvement. Consequently, treatment decisions and nodal staging more often have to be based solely on the diagnostic information derived from the sentinel lymph node (SLN).
More than 100 publications provide evidence on the clinical utility of using OSNA and the CK19 copy number for SLN assessment. They show that CK19 provides predictive and prognostic information beyond conventional pathology assessment. This helps clinicians better select who can be safely spared an ALND, allows more personalised treatment decisions and improves patients' quality of life.
Watch the video with Dr Vicente Peg from University Hospital Vall d'Hebron, Barcelona, and learn more about molecular intraoperative staging with OSNA.
How are we transforming the lives of clinicians and patients in the breast cancer field?
Get inspired by our success stories from around the world
Dra. Sagrario Fuerte Ruiz, breast surgeon of Hospital Universitario de Getafe (Madrid)
"The use of the magnetic seed for the intraoperative localisation for impalpable breast cancer lesions, instead of the wire guided localisation, brings us many important advantages. As we do not depend on the Radiology Service to mark lesions the day of the intervention, it has allowed us to schedule the patients right from the first hour in the morning. We have optimised the surgical times, being able to increase the number of procedures per working day. Additionally, the localisation with the magnetic seed facilitates the approach, reducing the size of the excised tissue and providing better aesthetic results."
Dr Abigail S. Caudle, Department Breast Surgical Oncology, University of Texas MD Anderson Cancer Center, USA
Learn more about targeted axillary dissection (TAD) and the management of the axilla after neoadjuvant chemotherapy with Dr Abigail S. Caudle.
Watch the video
Dra. Yvana Martínez, breast surgeon of Hospital de Cáceres.
"The use of Magseed has allowed us not to stop with breast cancer surgeries during COVID lockdown, thanks to the fact that it can be placed more than 30 days before intervention."
Breast Care Centre - Dr. Millicent Bello
King's Collage Hospital, Dubai
Interview with Dr. Sama Adnan Zibdeh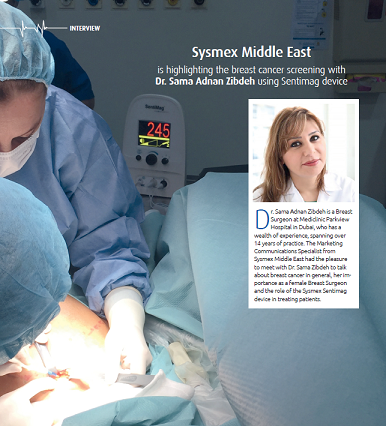 Sysmex Middle East is highlighting the breast cancer screening with Dr. Sama Adnan Zibdeh using Sentimag device
SEER Stat Fact Sheets: Female Breast Cancer. seer.cancer.gov/statfacts/html/breast.html (accessed Sep. 20, 2016).
Allemani C. et al. (2015): Global surveillance of cancer survival 1995–2009: analysis of individual data for 25 676 887
patients from 279 population-based registries in 67 countries (CONCORD-2). Lancet, 385:977-1010.
Kirshbaum M.N. et al.(2016): Open access follow-up care for early breast cancer: a randomised controlled quality of life analysis. Eur. J. Cancer Care, advance online publication, doi: 10.1111/ecc.12577.
Hamer J. et al.(2016): Quality of life (QOL) and symptom burden (SB) in patients with breast cancer. Support Care Cancer, advance online publication, doi:10.1007/s00520-016-3417-6.
Pinto A.C. et al.(2011): Improving quality of life after breast cancer: dealing with symptoms. Maturitas, 70(4):343-348.
Endomag®, Sentimag®, Magseed® and Sienna+® are registered European Union trademarks of Endomagnetics Ltd · www.endomag.com
Magtrace® is a registered trademark of Endomagnetics Ltd in the United Kingdom · www.endomag.com