Enter the captivating world of blood cell morphology
The judgment of an abnormal blood smear is an art. Therefore, a well-made blood smear is essential for optimal microscopy examination of the blood cell differential.
Nowadays, morphology experts are not alone. Powerful tools exist to support them in preventing errors and inconsistencies common with manual blood smear preparation and interpretation.
We are passionate about the beauty of well-prepared blood smears and the clinical insights that can be discovered from cell morphology.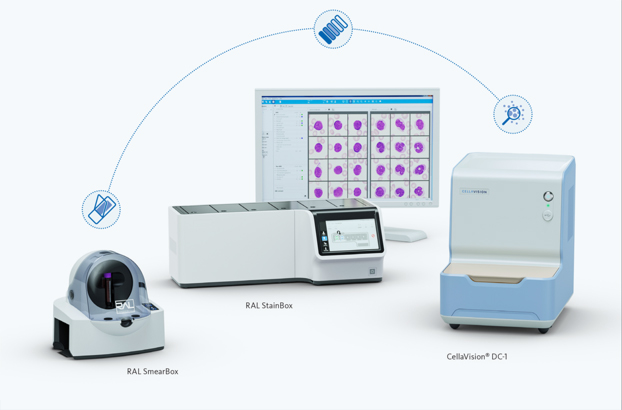 The new Sysmex Smear Workflow is a unique concept that optimises the preparation of peripheral blood smears for automated digital morphology. Increase productivity and quality, all while minimising contact with biohazardous material.
The Sysmex Smear Workflow for smaller laboratories comprises the RAL SmearBox and RAL StainBox with methanol-free reagents, combined with the CellaVision® DC-1. The concept seamlessly covers the whole haematology workflow so that you can provide results with consistently high quality.
A good quality smear, thorough examination and proper interpretation in line with the patient's clinical state should be ensured by the haematology pathologist. With the Sysmex Smear Workflow, we make this possible.
RAL SmearBox
RAL SmearBox – it all starts with a good smear
RAL SmearBox benefits at a glance:
controlled smearing for all blood samples
homogenise blood by smooth rotation of the sample tube
biohazards are reduced via closed-vial sampling
zero carry-over from disposable aspiration and smearing tips
cells are evenly distributed across all smears
The peripheral blood smear is a basic but highly informative haematological tool. An adept understanding of peripheral blood smear interpretation is crucial for a successful clinical practice.

The innovative and fully automated RAL SmearBox produces consistently high-quality blood smears and gets blood cells into shape.
RAL StainBox
RAL StainBox – staining made easy
RAL StainBox benefits at a glance:
staining phases are monitored
minimal routine maintenance
out-of-the-box, methanol-free reagents
RFID (radio frequency identification) technology for storing reagent traceability data
A skilfully stained slide is a crucial step in the smear workflow and is a delicate process. The semi-automated RAL StainBox is easy to use and produces the optimal staining result for your peripheral blood or bone marrow smears. The staining procedure is standardised through a software-controlled process, thereby giving your morphology assessments a uniform basis.
It is also optional to substitute the RAL StainBox with the RAL Stainer.
CellaVision® DC-1
CellaVision® DC-1 – great things come in small packages
CellaVision® DC-1 benefits at a glance:
automated blood cell differentials promote high efficiency
enhanced quality of results from consistency and standardisation
connectivity that facilitates remote collaboration and validation of results
high-quality images highlight all cellular details
smoother workflow and data management in the haematology laboratory
accelerated turnaround time to clinical diagnosis ultimately benefits the patient
valuable education tool for laboratory staff aided by the reference cell library and side by side blood cell images

Digital cell morphology and network integration are trends in laboratories today. The CellaVision® DC-1 is the latest in a line of proven automated digital cell morphology devices and is tailor-made for smaller and satellite laboratories.

The DC-1 consists of an automated microscope, a high-quality digital camera and an advanced computer system that uses artificial neural network (ANN) technology to locate, capture and pre-classify white blood cells from a stained blood smear. The system also pre-characterises the red blood cell morphology and provides a functionality for performing platelet estimates. ANNs are very good in pattern recognition and classification because of their ability to generalise and make decisions. The CellaVision® DC-1 (and Sysmex DI-60) uses ANNs that have been trained on thousands of cell images. Over 300 different features, e.g. shape, colour, size and nuclear to cytoplasmic ratio, have been identified for each cell and are used in determining the cell's classification into one of 17 cell classes.

WBC, RBC and PLT images are stored, together with differential results, in a database. Captured cell images can be reviewed and compared in multiple cell galleries or magnified and studied in detail individually. After reclassification and validation, the results are sent to the Sysmex Extended IPU or LIS system. Additionally, there is a cell reference library which not only benefits everyday laboratory work, but also allows for educational opportunities.

This technology can dramatically improve the quality and efficiency of the historically subjective differential review. Advances in image analysis and network integration allow the cell image to finally become a fundamental part of the patient's record.
MCDh reagents
MCDh reagents - Bringing cells to life
MCDh reagents benefits at a glance:
no fume cupboard required
no reagent preparation needed: ready-to-use at your convenience
open stability of 28 days
standard and user-defined staining protocols
adapted protocol for staining bone marrow slides
The orchestra of methanol-free Micro Chromatic Detection for haematology (MCDh) reagents apply a panoptic staining method similar to the classic May-Grünwald-Giemsa/Wright stains for blood smears but have added benefits.
Thanks to the exceptional appearance of the cells, you will save time and feel confident that no details will be missed during morphological analysis, as well as the fact that results will be comparable and reproducible.